Purchase Tickets - UK Tour 2020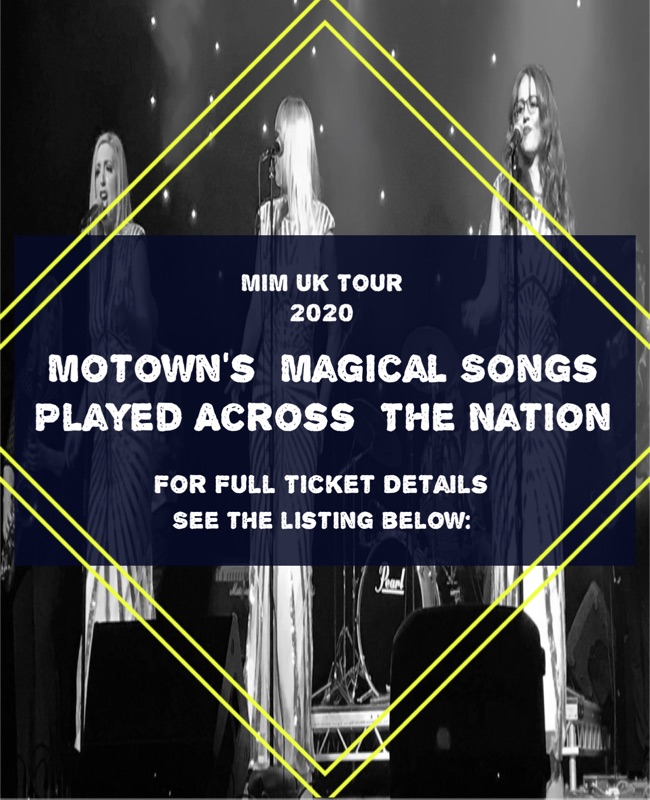 PARAMOUNT THEATRE, PENISTONE:
Having 'sold out' their 2019 show at the Paramount MiM return on Saturday, 13th March, 2021. Tickets for the event are available from the Box Office Tel: 01226 767532 or www.penistoneparamount.co.uk
MASHAM TOWN HALL:
MiM play the 'MTH' on Friday, 4th September 2020 tickets are now on sale Tel: 01765 680200
Y THEATRE - LEICESTER
MiM visit Leicester's oldest working theatre on Friday, 7th May 2021. Tickets are available from the Box Office Tel: 0116 255 7066
THE LYRIC THEATRE - DINNINGTON
MiM are looking forward to returning to a venue that has enthusiastically supported the show since its first visit in 2019. The performance will take place on Friday 12th March 2021.Tickets for this show are now available at the 'Early Bird' price of £10.00 Tel: 07583 796827
SHIRE HALL - HOWDEN
The MiM show visits the historic market town of Howden on Saturday 12th September 2020. Tickets available Tel: 01430 432510
PLAYHOUSE THEATRE - SLEAFORD
Built in 1825 the Playhouse Theatre remains a significant landmark within the local community. Tickets for the MiM show on Saturday 26th September 2020 are available Tel: 0333 666 3366 or ticketsource.co.uk
PLAYHOUSE 2 - OLDHAM
MiM have confirmed the date for their rescheduled performance at the Playhouse 2. The show will now go ahead on Friday, 21st November 2020. Tickets for the event will be available shortly from the Ticket Office Tel: 01706 841697
DUCHESS THEATRE - LONG EATON
MiM return to the scene of one of their most successful shows of 2019 when they appear at the 'Duchess' on Wednesday, 11th November 2020, tickets are now on sale Tel 01188 23884.
© Copyright Made in Motor-City