Purchase Tickets - UK Tour 2020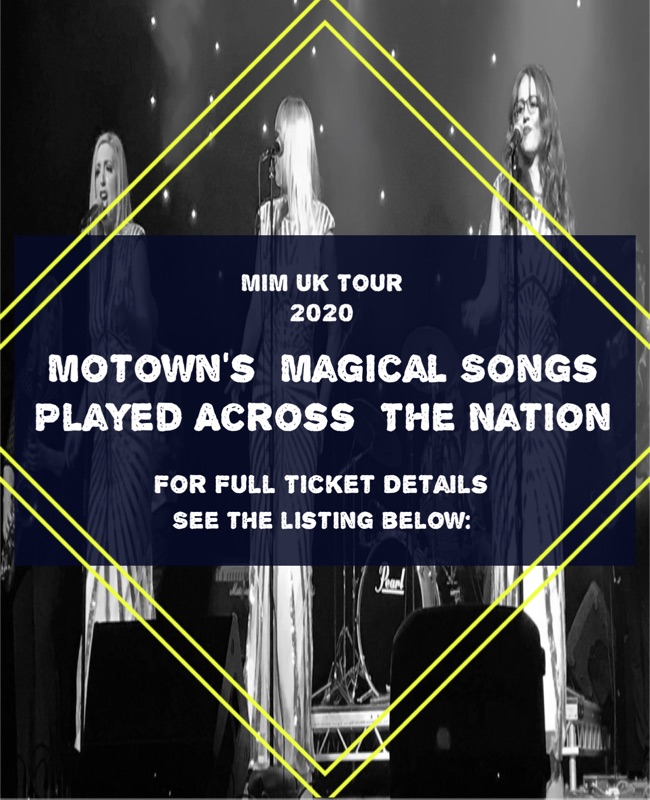 FORUM THEATRE - BARROW
Tickets for MiM first show of 2020 at 'The Forum Theatre', Barrow on Friday, 7th February are now on sale from the Box Office Tel: 01229 820000 or www.barrowforum.co.uk
GLADSTONE THEATRE - PORT SUNLIGHT:
MiM return to the Gladstone on Friday 21st February 2020 tickets priced £16.00 available from the Box Office Tel: 0151 643 8757
PARAMOUNT THEATRE, PENISTONE:
Having 'sold out' their 2019 show at the Paramount MiM return on Friday, 20th March, 2020. Tickets for the event are available from the Box Office Tel: 01226 767532 or www.penistoneparamount.co.uk
MASHAM TOWN HALL:
MiM play the 'MTH' on Saturday, 28th March 2020 tickets are now on sale Tel: 01765 680200
GUILDHALL THEATRE - GRANTHAM
MiM debut at the Guildhall Grantham on Friday 24th April 2020. Tickets for the event are now on sale tel: 01476 406158.
VICTORIA HALL - SETTLE
MiM return to the Victoria Hall (Oldest Music Hall) on Saturday, 25th April 2020 with tickets now available from the venue. Contact the Box Office on Tel: 01729 825718 or www.ticketsource.co.uk
PHOENIX THEATRE - CASTLEFORD
MiM return to Castleford for the third consecutive year this time appearing at the Phoenix Theatre on Friday, 15th May 2020.
Tickets are available online or from the Box Office Tel: 01977 644566
CENTURY THEATRE - COALVILLE
The show makes it debut at the 'Century Theatre' on Sunday, 10th May 2020. Tickets for the event are available form the Box Office Tel: 01 530 278444 or century.theatre@leics.gov.uk
FORUM THEATRE - CHESTER
MiM return to 'Forum Studio Theatre', Chester on Friday 5th June 2020. Tickets can be purchased on line or through the Box Office Tel: 01224 341296
YMCA THEATRE - SCARBOROUGH
The fellas will be taking the show to the beautiful YMCA Theatre on Saturday, 13th June 2020 with tickets currently on sale from the venue Tel: 01723 506750
Y THEATRE - LEICESTER
MiM visit Leicester's oldest working theatre on Saturday 18th July 2020. Tickets are available from the Box Office Tel: 0116 255 7066
THE LYRIC THEATRE - DINNINGTON
MiM are looking forward to returning to a venue that has enthusiastically supported the show since its first inception on Friday 7th August 2020. Tickets for this show are now available at the 'Early Bird' price of £10.00 Tel: 07583 796827
SHIRE HALL - HOWDEN
The MiM show visits the historic market town of Howden on Saturday 12th September 2020. Tickets available Tel: 01430 432510
PLAYHOUSE THEATRE - SLEAFORD
Built in 1825 the Playhouse Theatre remains a significant landmark within the local community. Tickets for the MiM show on Saturday 26th September 2020 are available Tel: 0333 666 3366 or ticketsource.co.uk
DUCHESS THEATRE - LONG EATON
MiM return to the scene of one of their most successful shows of 2019 when they appear at the 'Duchess' on Wednesday, 11th November 2020, tickets are now on sale Tel 01188 23884.
© Copyright Made in Motor-City